131
Spritzgebäck (I really don't know how to translate this name but I swear you that these ones are one of my best biscuits, my favorite ones!)
1
These recipes is from my great-grandmother and she would be very happy to know that you bake and like it!
Spritzgebäck (I really don't know how to translate this name but I swear you that these ones are one of my best biscuits, my favorite ones!)
As usual…. to see better "click" on the photos!
500 gr. flour
250 gr. butter
250 gr. sugar
2 eggs
125 gr. hazelnut flour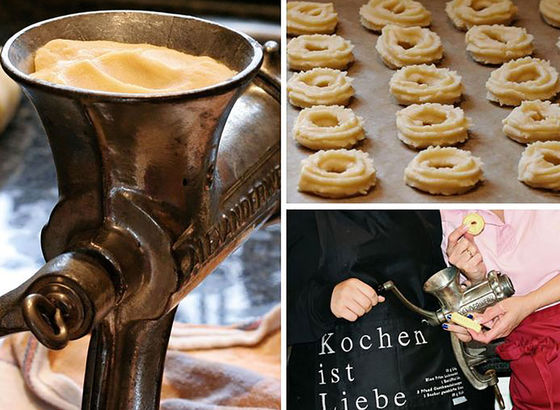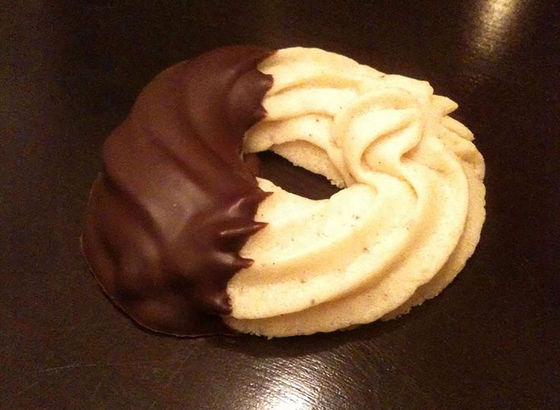 It's better to prepare any biscuits mixture some hour in advance. In this way the pastry is less sticky and it's easier to work with it.
Mix all the ingredients.
Put your pastry cut in little pieces into a meat grinder using the tool that has a star shape (it is one of the accessories), I mean you don't have to use the tool with many holes that is normally used for meat.
Keep up with the pastry until you have reached an 8 cm. long piece and stop. Make sure that the pastry don't break! Work in this way until you have finished the pastry and you have got all the pieces.
Make a U-shape or a S-shape with any piece.
Place your biscuits on a baking tray and let them in the oven at 160° for about 15-20 minutes. Monitor their cooking because the time they require to get ready depends on their thickness and bigness.
Before baking, if you want, you can brush them with a dense mixture of water and powdered sugar.
If you love chocolate, don't use this mixture but dunk any biscuits at its extremities into hot chocolate when they are already cooked.
As for any other Christmas biscuits recipe, you can put the biscuits on a box when they are still warm. You can keep them closed in the box and eat before 4/5 weeks.
Have a look at the other recipes as well: Butterbackes, Hildsbrötchen, Zimtsterne, Spritzgebackenes, Vanillegipferl and all the other articles about Christmas! All these recipes are from my great-grandmother and she would be very happy to know that you bake and like them!
no
food
natale
2017-12-07 14:09:47
on
26
0000-00-00
2482
{"testo":"

Spritzgebäck (I really don't know how to translate this name but I swear you that these ones are one of my best biscuits, my favorite ones!)

\r\n

As usual…. to see better "click" on the photos!

\r\n

\r\n

500 gr. flour
250 gr. butter
250 gr. sugar
2 eggs
125 gr. hazelnut flour

\r\n

\r\n

\r\n

PHOTO2481 PHOTO2482

\r\n

\r\n

It's better to prepare any biscuits mixture some hour in advance. In this way the pastry is less sticky and it's easier to work with it.

\r\n

Mix all the ingredients.

\r\n

Put your pastry cut in little pieces into a meat grinder using the tool that has a star shape (it is one of the accessories), I mean you don't have to use the tool with many holes that is normally used for meat.

\r\n

Keep up with the pastry until you have reached an 8 cm. long piece and stop. Make sure that the pastry don't break! Work in this way until you have finished the pastry and you have got all the pieces.

\r\n

Make a U-shape or a S-shape with any piece.

\r\n

Place your biscuits on a baking tray and let them in the oven at 160° for about 15-20 minutes. Monitor their cooking because the time they require to get ready depends on their thickness and bigness.

\r\n

Before baking, if you want, you can brush them with a dense mixture of water and powdered sugar.

\r\n

If you love chocolate, don't use this mixture but dunk any biscuits at its extremities into hot chocolate when they are already cooked.

\r\n

As for any other Christmas biscuits recipe, you can put the biscuits on a box when they are still warm. You can keep them closed in the box and eat before 4/5 weeks.

\r\n

Have a look at the other recipes as well: Butterbackes, Hildsbrötchen, Zimtsterne, Spritzgebackenes, Vanillegipferl and all the other articles about Christmas! All these recipes are from my great-grandmother and she would be very happy to know that you bake and like them!

\r\n

","abstract":"These recipes is from my great-grandmother and she would be very happy to know that you bake and like it!","titolo":"Spritzgebäck (I really don't know how to translate this name but I swear you that these ones are one of my best biscuits, my favorite ones!)"}